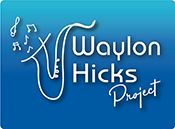 Waylon Hicks is known as a uniquely talented artist and educator within the San Diego music scene.   Waylon attended the Conservatory of Music at The University of the Pacific in Stockton, CA where he earned his BA degree in Music.  He relocated to San Diego in 2006, and since then has made his home in Carlsbad, CA. He is a regular performer at many of the top local venues in San Diego and surrounding areas. Waylon strives to open ears to something new, different and exciting. He continues to provide a fresh approach, with a goal of creating music rather than replicating.  Mr. Hicks is also a highly sought after music educator, maintaining a full schedule of private lesson students.  If interested in lessons, be sure to visit his Lessons Page to learn how to enroll.  
Currently you may catch one of Waylon's local shows with his band, "Waylon Hicks Project."
The Waylon Hicks Project (WHP) is a top choice for Funk-Rock-Jazz led by Saxophonist, Waylon Hicks.  Performing funk/rock based jazz arrangements of a wide variety of tunes, WHP has a brand of music and sound that is all its own and is accessible to audiences of all musical tastes.  You'll hear jazz standards, originals and even a few rock and pop covers with a fresh approach that will leave crowds excited to hear what happens next!  WHP is a professional, self-sufficient, self-contained, funky jazz experience well-suited to a spectrum of settings - from intimate gatherings to large events. WHP is fully capable of performing at venues used to hearing anything from solo acts to rock, cover and tribute bands. The Waylon Hicks Project thrives on opening ears to something new!
Instrumentation includes:
Duo: Saxophones and Keyboard (Well suited for small, intimate settings in need of background music)

Trio: Saxophones, Keyboard, Drums (Well suited to medium-sized indoor/outdoor settings.  Energetic but not overpowering)  

Full Band: Saxophones, Keyboard, Bass, Drums (Well suited to large indoor/outdoor settings.  Funky, energetic and lively)